About ixigo
Launched in 2007, ixigo is a technology company focused on empowering Indian travellers to plan, book and manage their trips across rail, air, buses and hotels. We assist travellers in making smarter travel decisions by leveraging artificial intelligence, machine learning and data science led innovations on our OTA platforms, comprising our websites and mobile applications. Our vision is to become the most customer-centric travel company, by offering the best customer experience to our users. Our focus on travel utility and customer experience for travellers in the 'next billion user' segment is driven by technology, cost-efficiency and our culture of innovation has made us India's leading travel ecosystem for the 'next billion users'. Our OTA platforms allow travellers to book train tickets, flight tickets, bus tickets, hotels and cabs, while providing travel utility tools and services developed using in-house proprietary algorithms and crowd-sourced information, including train PNR status and confirmation predictions, train seat availability alerts, train running status updates and delay predictions, flight status updates, bus running status, pricing and availability alerts, deal discovery, destination content, personalized recommendations, instant fare alerts and automated customer support services.
Management Team
Aloke Bajpai
Co-Founder & Group CEO, ixigo
Aloke Bajpai is the Co-Founder, Chairman, Managing Director and Group CEO of ixigo. He holds a bachelor of technology degree in electrical engineering from the Indian Institute of Technology, Kanpur and a master of business administration degree from INSEAD. He worked as a software development engineer and, subsequently, as a system and network engineer at Amadeus in France. He launched ixigo.com in India in 2007. Aloke Bajpai is a charter member of The IndUS Entrepreneurs ("TiE").
Rajnish Kumar
Co-Founder & Group CPTO, ixigo
Rajnish Kumar is the Co-Founder, Non-Executive Director and the Group CPTO of ixigo. He holds a bachelor of technology degree in computer science and engineering from the Indian Institute of Technology, Kanpur. Rajnish worked as a software development engineer at Amadeus in France. He will be advising the company on all matters relating to attracting top global talent, new product development, technology and research.
Dinesh Kumar Kotha
Co-Founder & CEO, ConfirmTkt
Dinesh Kumar Kotha is the Co-Founder & CEO of ConfirmTkt, a
multi-modal travel search and booking engine. Along with overseeing the
day-to-day functioning of the company, he spearheads the business
development division and also plays an active role in talent
acquisition. With more than 10 years of leadership experience, he
possesses deep industry knowledge and expertise. He holds a B.Tech.
degree from the National Institute of Technology, Jamshedpur and has a
keen interest in the field of marketing.
Sripad Vaidya
Co-Founder & COO, ConfirmTkt
Sripad Vaidya is the Co-Founder and COO of ConfirmTkt, a multi-modal
travel search and booking engine. With over 10 years of industry
experience, he has an in-depth knowledge of business analysis,
requirements analysis and elicitation. A B.Tech graduate in computer
science, he has worked at a number of reputed companies like IBM where
he was the recipient of many honours, including the IBM GBS Eminence and
Excellence Award.
Sudhakar Reddy Chirra
CEO, Buses, ixigo
Sudhakar Reddy Chirra is the lead of all operations in the buses
vertical at ixigo. Along with considerable technological expertise, his
experience in the corporate services domain has fostered a keen
marketing sense and a strong desire to build new age companies that
offer innovative solutions. In 2008, he founded AbhiBus, an online
ticket booking platform. He holds a bachelor's degree in engineering
from Anna University and is passionate about revolutionising the travel
sector.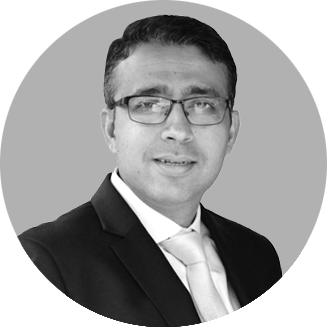 Rahul Gautum
Group CFO, ixigo
Rahul Gautum leads all financial operations at ixigo with a specific focus on corporate finance and corporate development, mergers and acquisitions, public markets and investor relations, growth, risk management and financial reporting. Rahul holds a bachelor's degree in commerce (honours) from the University of Delhi. In 2004, he also became a member of the Institute of Chartered Accountants of India. He has held several leadership positions in the past, most notably as Senior Vice President – Finance at PVR Limited.
Ernesto Cohnen
SVP Product & Growth, ixigo
Ernesto Cohnen steers the product & growth vertical at ixigo and
oversees product management, strategy and evolution. A native of Madrid,
he is an accomplished computer science engineer with an international
MBA degree. His expertise in technology and business pushes him to
create innovative products that improve people's lives, notably as the
co-founder of the travel startup 'Triporate'.
Aashish Chopra
VP Content Marketing, ixigo
Aashish Chopra steers all content marketing operations at ixigo. An
award winning viral video marketer, he has been instrumental in
growth hacking for ixigo via video marketing, having built and
scaled in-house production capabilities. One of his videos became
Asia's most shared branded Facebook post, gaining 40 million views
in a week. In the past, he has been featured in Forbes, and has
recently authored his first book 'Fast, Cheap & Viral'.
Dinesh Kathuria
VP Media Sales, ixigo
Dinesh Kathuria heads all media sales initiatives at ixigo, focusing on
media revenue and strategy. He holds specialised experience in online
and digital media sales with an extensive network in the online
advertising industry. In the past, he has worked with leading media
organisations like Rediff.Com, the Times of India and the India Today
Group.
Puneet Aggarwal
VP Finance, ixigo
Puneet Aggarwal is instrumental in all financial operations at ixigo.
With a statistical mindset and result oriented approach, he has been a
key figure in ixigo's growth and development. A qualified chartered
accountant, he has over 15 years of experience in financial leadership
roles at reputed companies like Motorola Solutions and HCL Infosystems.
He is highly skilled in financial reporting, analysis and business
planning.
Sunil Sharma
VP Technology Operations, ixigo
Sunil Sharma guides all technological operations at ixigo. A dynamic
IT professional, he has gathered hands-on experience across
e-commerce, education and travel sectors. Proficient in DevOps,
automation, build engineering and configuration management, he is
passionate about building cutting edge processes that are scalable,
robust and automatic. He is a graduate of Delhi University, and
holds an MBA from Sikkim Manipal University.
Sumeet Rana
VP Product (Flights), ixigo
Sumeet Rana spearheads all product initiatives in the flights
vertical at ixigo. A voracious learner and fintech enthusiast, he
holds valuable experience as a product manager with companies like
Mobikwik, PayU and HolidayIQ.com. A professionally trained Tabla
player, he is an alumnus of IIT Bombay.
Manan Bajoria
VP Growth, Product Marketing and Analytics, ixigo
Manan Bajoria heads product marketing and analytics at ixigo. His
expertise lies in a variety of areas, including digital marketing,
user acquisition, growth hacking and P&L management. A seasoned
professional having multiple years of experience with industry giants
like Airtel and Lenskart, he holds an MBA degree in marketing, and a
B. Tech degree from IIIT.
Nupur Jain
VP Human Resources, ixigo
Nupur Jain drives the overall people strategy at ixigo, including
human resource planning, talent acquisition, people development, and
administration. She has over 12 years of experience with companies
like Canon, HCL and Wingify. A postgraduate degree holder from Tata
Institute of Social Sciences, with a B.A in English Literature from
University of Delhi, she cultivates a deep interest in data privacy
& security, gender & diversity.
Vaibhav Agarwal
VP Customer Experience, ixigo
Vaibhav Agarwal drives the customer experience function at ixigo. His
expertise lies in building large delivery systems, leading multi-site
operations and rendering analytical solutions on complex business
problems. A result oriented leader with nearly 16 years of experience,
he is an alumnus of IIM Bangalore and has a deep interest in business
analytics.
Nitin Gurha
VP Business & Partnerships, ixigo
Nitin Gurha is instrumental in launching various business verticals
and partnerships across travel marketplaces, SME corporates and
adventure travel at ixigo. A calculated risk taker, his
entrepreneurial mindset has driven these initiatives to great
profitability. He is a travel industry veteran, with over 20 years of
varied experience across GDS, travel tech, metasearch and adventure
travel.